Hello.  Long time no post.  As last reported, I had one of my infusions Friday, March 24. Let's just say it was a rough week afterwards filled with constant migraines, a rebounding fever and serious fatigue bad enough to cause me to miss an entire week from work and forced me to make the decision that these transfusions are not going to continue–that's it, my last one (at least for the very near future).
I am glad to say that I am headache free today and was back at work.  So while I literally slept through the last week of Sale-a-Bration and did not create one single item during the past week, I thought I would share with you a new video from the Stampin' Up! office which demonstrates how versatile a stamp set can be when paired with a coordinating item, such as an embossing (or debossing) folder.  (Just click on the picture below to be redirected.)
Amazing!  Of course I do not have that duo and now I want it.  How about you?  Well, you can get these products for yourself by simply clicking below which will take you to my demonstrator website for quick and easy ordering.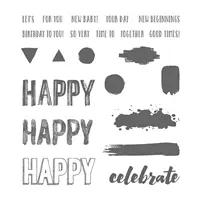 Thank you for stopping by today.  I hope you leave here inspired to make a birthday card to send to a friend, coworker, family or to give to a perfect stranger to make their day (you know, for them to give to someone).
NEWS ALERT:  I am attending OnStage Local in Shreveport this coming weekend so I will have a sneak peak of upcoming products I will be able to tease you with soon.
Until next time, stamp on my friends.
Linda