Longtime family friends — Jim and Ruby Ewell — just celebrated their 65th Wedding Anniversary.  A special celebration was held at my home town's town center to celebrate their milestone.  I had planned on attending with my Mom, but wasn't up to going — but I did make them a card that was delivered on my behalf.
I used the Falling in Love suite from the 2017 Occasions Catalog (now retired) and made a matching envelope (not shown) with my Envelope Punch Board.  Pictures never turn out as pretty as the original card, but here is my best effort to share it with you:
While these particular products are no longer available for purchase, there are similar products in the 2017-2018 Annual Catalog that can be substituted in their place.   I have listed some suggestions below in addition to items I used that are available for purchase:
NOW SHOWING:  Soft Sayings All-Inclusive Card Kit
Here is another video from the Stampin' Up! Home Office.  Say "Hello" to Holly, one of the trainers at Stampin' Up!, as she gives you some tips and tricks for creating a stack of all-occasion cards with the all-inclusive Soft Sayings Card Kit.  This card kit makes 20 cards, two each of 10 designs, using the included Soft Sayings Stamp Set.  But that's not all — there is also a refill kit so you can keep on making more of these super cute cards!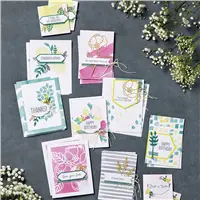 If you have any questions regarding the design of this card (or any other card I have posted in the past), do not hesitate to reach out and ask.  If I can be of assistance helping you get started on your creative journey, I would jump for joy at the opportunity!
Tomorrow I will share with you a card I made for my husband's birthday — assuming I give it to him in the morning, rather than in the evening.  While he doesn't follow my blog he does follow my Facebook posts and I sure don't want to spoil the surprise.
Thank you for stopping by today.  I hope you leave here inspired to put stamps to ink to paper.  Until next time, stamp on my friends.
Linda