Happy Friday friends.  For those of you in the path of Hurricane / Tropical Storm Cynthia, I hope you are safe and dry.  We have been lucky so far here in the Dallas Metroplex area, although the heat and humidity is a bit much at the moment.
I continue to battle headaches and had a visit with today my neurologist.  We are going to see if a nerve block injection will help break the cycle — now just need to wait for insurance to approve the procedure …
I wanted to share with you today a card I made last week at the request of a friend.  She had a family member who was getting married and asked that I make her a card for this special occasion.  I fell in love with the "Falling in Love" suite from the 2017 Occasions Catalog, and while the suite is now retired, I chose these products as the main elements in my design to achieve the design look I wanted.
The fold of this card is called a "gate fold".  It is an 8.5″ x 11″ piece of card stock cut to 5.5″ x 11″.  The 11″ length is then scored at 2.75″ from both ends to create the two inward folds.  It is then held closed with a belly-band that slides on/off the card.
Below are the current Stampin' Up! products that are available for purchase which can be quickly added to your shopping cart with a simple click on the thumbnails below:
Here are the retired products I used.  These are no longer available for purchase through Stampin' Up!:
This card can easily be duplicated with any of the coordinating product bundles now available in the 2017 – 2018 Annual Catalog.
Speaking of product bundles — the Daisy punch is now back in stock so you can now order either the punch on its own, or as part of a bundle with the coordinating stamp set.  I just ordered a bundle for myself!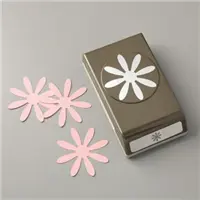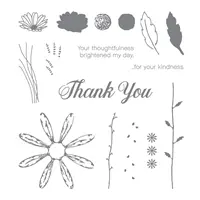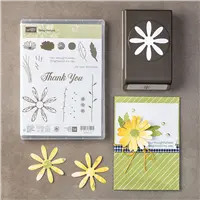 Thank you for stopping by today.  I hope you leave here inspired to put stamps, to ink to paper.  Until next time, stamp on my friends.
Linda