Cancer is such an ugly word (it should be a four letter word it is so bad).  It's a word no one ever wants to hear mentioned when it comes to a close friend or a family member.  I personally have heard that word too many times over the past month — twice with regard to two very dear friends and once relating to one of my brothers-in-law.  It just breaks my heart when I hear that word knowing that there really isn't much that I can do to make it all better.
The one thing that I can do, however, is make cards.  And thanks to Stampin' Up! Million Dollar Career Sales Demonstrator Patty Bennett, who designed an amazing stamp set "Ribbon of Courage", I have the perfect stamp set that I received as an all attendee give-away at #OnStage2017 earlier this year.
My friend and former co-worker Amy M. had previously battled uterine cancer and beat it. Sadly it appears to have returned with a vengeance.  The cancer awareness ribbon color for uterine cancer is peach.  Here is what I came up with:
Below are the Stampin' Up! products I used in the design of this card:
I also used a strip of retired designer series paper from a recent 6 x 6 paper stack but cannot recall the name at this time (if I remember when near my supplies again I will update this post).
There is also a coordinating set of  framelits for this stamp set (and I really need to get them on an order real soon) which can be purchased separately or purchased as part of a bundle (with either a clear-mount or wood-mount stamp set) at a 10% savings when bundled: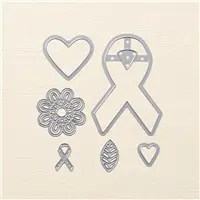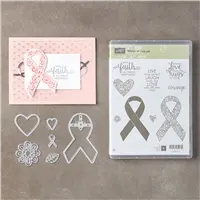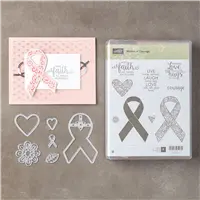 This card is going in the mail to Amy today.  I hope it brightens her day just a little bit when she opens it — it is a hug from me to her.
Thank you for stopping by today.  I hope you leave here inspired to put stamps to ink to paper.
Until next time, stamp on my friends,
Linda
P.S.  Join me in supporting the #MakeACardSendACard campaign — all you need to do is make a hand-made card and then actually MAIL it to someone.  How easy is that!?!